Success Stories
There are many things I can say about the high quality of service I provide to my home seller and home buyer clients, but probably none would be as credible as testimonials from some of my recent clients themselves.
So please take a moment to read the following stories. I hope they indicate my experience and integrity, as well as make it clear how much I enjoy helping people with their real estate needs.
I would be happy to email you additional testimonials if you are interested.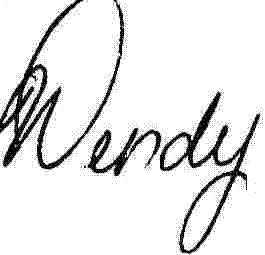 ---
I live out of state and after reading the reviews on Wendy Brown I had to comment. Yes, Wendy Brown is extremely aggressive, timely, professional, confident, and knowledgeable. All are true. I called many agents in Atlanta and after a long exhausting search, I found her. She was able to obtain a contract for us in less than 30 days. Amazing! I talked to Wendy almost daily about what the bank might think. Every call, she called or texted back. Our bank accepted it and we closed in less than 90 days. Far less time then what I read online. If you want a professional who knows what they are doing, then you must hire her.
Short Sale Customer, Lithonia GA
I was a distressed homeowner who was seeking a short sale because I could not get a loan modification. Before Wendy came to my house she wanted to make sure I really wanted to sell. She explained everything to me including that my lender may not agree to a short sale. I was surprised as to how detailed she was. No other agent came to me this way. She was professional, caring, and extremely understanding. She listened to me. She wasnít pushy. When I had a question she promptly called me back or text. She called the lender everyday and provided me an update. Finally we closed and I received money back from closing on my home as a short sale that I didnít expect to receive. Thank you Wendy for everything. Words canít explain how grateful I am too you.
You are the best, Wendy Brown!
Short Sale Customer, Decatur GA
There is no one like Wendy Brown in this industry today. She is great with her customers. I too needed to Short Sale my home. She provided no promises and explained everything in detail. She even called me back everytime I had a concern. She worked hard to close this transaction with Bank of America. She was successful and closed me out of this nightmare in a few weeks. She is really a gem. Call her up. Schedule an appointment and see for yourself. You won't be disappointed. She is great.
Satisfied Short Sale Customer, Stone Mountain GA
There is not many people I would recommend. I do recommend Wendy Brown from Better Homes. She is great with her clients. She is extremely detailed and professional. I must say, she has the spirit of a saint. She is friendly, caring, understanding, and best of all she loves what she does. You can see it in her eyes. I needed to short sale as well. It's amazing that so many of us do. She asked questions no other agent asked me. I interviewed a few. Wendy, explained everything. She made sure I understood everything. She made me feel comfortable and not embrassed by the process. She assisted me with closing this transaction in a few months. At the end of the day, I felt good that I decided to work with her to Short Sale my home.
Short Sale Customer, Lithonia GA
As an out of state client of Wendyís, I couldnít afford to come back into Georgia inorder to short sale my house. She made the entire process easy. She used email and fax for all of my correspondence. She obtained an offer on my property within 15 days. She took care of the entire process and lead me through it step by step. I got really confused at times. She explained everything in a manner that was easy to understand. She was timely, professional, and courteous. Whenever I called, text, or emailed her, she responded back. I would recommend Wendy Brown again and again. Thank you, Wendy!
Distressed Homeowner,Stone Mountain, GA

Wendy Brown is an extremely aggressive agent. She is extremely knowable about short sales and the foreclosure market. I found Wendy Brown online by searching for experienced short sale experts and came across her on the CDPE website. I later contacted my lender, Chase, who highly recommended Wendy Brown as a Short Sale Expert through CDPE. She is really good at her job. Thank you for helping me short sale my home.
Distressed Homeowner,Conyers, GA
If you need an agent who provides excellent customer service then you need to call Wendy Brown. She is concerned about your needs and your wants. She is honest, professional, friendly, and extremely knowledgeable about the entire process. As a first time home buyer, I didn't know what I wanted. She helped me plan my home search that was right within my budget. She cared about me. She educated me throughout the process. I never felt like Wendy would take advantage of me. She was always smiling and appeared to be in a good mood. She also provided me with a written service plan that she promised to follow. I am so happy to be in my own home.
Thank you, Wendy
Cassandra Bell, Covington GA
Wendy Brown has changed the way I see real estate sales people. As a home owner, I wanted to sell but wasn't sure if now was the time to sell. Many of the homes in my community had sold well below what I had purchased my home for 10 years ago. This was my first time selling a home and I had allot of questions and concerns. Ready to move, I contacted Wendy to see if she had any recommendations or ideas on how she would market my home. The day she arrived, she arrived on time, professional, and extremely knowledgeable. Her service plan was in writing and she followed up with me quickly and promptly throughout the entire process. She made this process so simple.
She is a excellent agent. One you need to call each and every time you want to sell.
Tina Hutchison, Decatur GA
Excellent agent. I found my dream home after several months. She was even there after the sell for questions and concerns.
Wendy, thank you for helping my family and I avoid a costly mistake. As a first time home buyer you understood our needs and walked us through the entire process. We had worked with several agents before you, but nobody took a personal interest in what we wanted nor needed. Thank you so much for caring about me and family.
Judy Johnson, Lithonia GA
What a blessing you were to me and my family. We were facing foreclosure and didn't know who to call for help. I called Wendy Brown hoping that she could help direct us to someone who could help. We had packed up our home and was ready to go. Wendy, came in and directed us on how and who to speak with at our bank. We are still in our home, thanks to her. We love you, Wendy.
Wendy Brown made the entire home buying & selling process both easy and enjoyable from start to finish. I now understand what Excellent Service truly means!
Let me start by saying, I have never met a person like her before. She meet me once and advised me on what I could do to help with selling my home in this market. I am extremely busy, traveling in and out of state 3 to 4 times a week. I have been extremely pleased with her because she understands that time is extremely valuable. She uses technology to help in the communication process. I can't tell you how many times I have had to call agents just to see how many people have visited my home this week. She makes time to work with you regardless of your schedule and makes it easy for you to sell. I love this agent! Thank you, Wendy for everything!
Donna Kingston; Atlanta, GA
What a wonderful home selling experience. She came in several months before I decided to sell my home and spoke with my husband and I regarding the market. She advised us on several important issues that made looking for a new home easier. It was a smooth moving process. We will hire her again.
Internet advertising is extremely important today, so I was impressed when Metro Brokers featured my home on more than a dozen major real estate websites.
Honest! That is a good word to describe, Wendy Brown. I was looking to sell my home and called out three agents, including Wendy Brown to give me their professional opinion about the market. Every agent, except Wendy gave me a positive feedback. I already knew what was happening in my neighborhood. We had already had ten foreclosures in less than five months. So I wasn't surprised when Wendy told me what was going on and how much she thought I could sell my home for. With her help, we now have it rented out and I am currently in a new home that I love. She came prepared and was extremely knowledgeable about the entire process.
David Wright; Conyers, GA
I can't express enough how she made the selling of my home so easy. I reside out of state. My home was tenant occupied for several months. She helped my tenant find a new home and placed mines on the market. After several months it sold. It was so easy. Thank you, Wendy!
Derrick Coleman, Jamaica, NY
She is definitely experienced in this market. At first sight you would think she is a kid. My wife and I watched her carefully as she went through our home and advised us of things that she thought would help us sell our home in this market. I was extremely impressed with her after we got a contract in 2 months.
The Roswell, Lithonia, GA